First and foremost congratulations with your pregnancy!
For a nice, high-quality and especially original birth list, you are at the right place at Thilo .  
Putting together your list
We advise you to compile your list 3 months before the due date. This way we can ensure that all items are ready for us in time. Especially when the delivery is planned during the summer holidays, you should visit 4 months in advance.
To compile the list, we are happy to assist you with our expert advice.

We always place birth lists by appointment, if you wish, this can also happen after the store's opening hours. This is because we only want to be able to occupy ourselves with your list. This can be done with a telephone appointment, or you can safely jump in the store once and then you can already bring information.
The assortment
Apart from what you can find on our website and in the store, we can offer a lot more.
We would be happy to discuss this with you during the laying of the list.
Is there a purchase obligation?
Placing a list is possible from 300 € in articles. This can be both baby items and clothing. We only work with a mandatory list for large items (buggies, dining chairs, parks ...) You are clearly informed in advance which products must be purchased.
Outside the mandatory articles articles can be added and removed at any time (keep in mind that not everything is in stock.)
Gift cards
You can also choose to place gift vouchers on the list. That way, friends and family on a smaller budget can also contribute to the purchase of your favorite baby items or gifts. The gift vouchers are offered from 10 €.
Indication birth announcement or separate ticket

To make your list a success, we recommend that you clearly state on the birth announcements that your child's favorite things are with us, stating our website www.thilo.be. If desired, we can also provide you with separate tickets with all our details to stick with the birth announcement.
Your child is born

Your list will be put online right after birth and will remain active until further notice from the proud parents. The items are offered both in-store and online. Thanks to the online birth list, people who live further can easily pick and buy a present for you. The birth list page can be personalized with a photo or with the birth announcement. Items that come in handy quickly can be marked with a "fast" label
Receive your gifts

Your friends and family can visit both the website and the store for viewing and ordering your birth list products. They can choose to have the birth list gifts delivered to their parents' home, or to hand them over. Every gift is packed with the utmost care and love. In consultation with the parents we bring the presents to your home on a regular basis. You can follow up online sales via your account.
Exit from the list

Usually the list is closed about 8 weeks after birth or after the baby shower. After closing the birth list, you will receive a purchase voucher worth 10% of all purchased items (excluding sold items) from your list. This voucher is valid for one year.
More info

You are always welcome in our store for further information. We will be happy to help you further and answer your practical questions.
If you have any further questions or comments or would like to make an appointment, do not hesitate to contact us.
We like to explain the operation of the online section separately:
A private baby site
A personal username and password give you access to your baby 's free website . That site you manage user-friendly and completely autonomous. As a parent, you decide for yourself what will be on your baby's site. You can post or delete digital photos in just a few clicks. Via simple security you also choose who the website is accessible to. And there is an immediate link to your online birth list .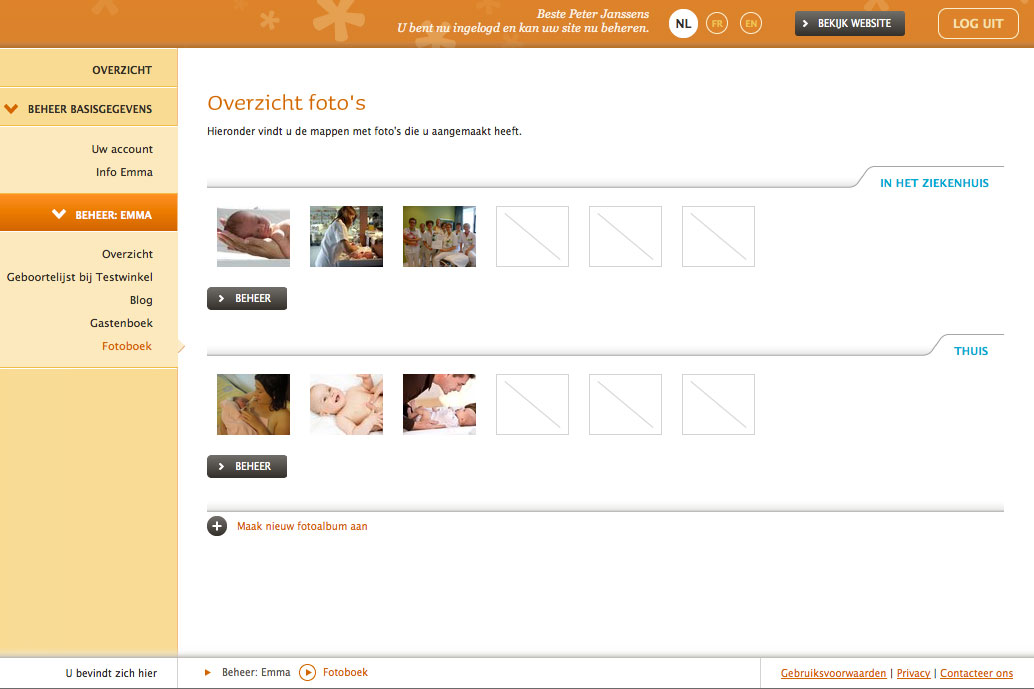 Only nice gifts!
Gifts come with every new birth. And why not serve clear wine? Place a birth list on the website of your little sprout. This way visitors see which gifts you find useful and which ones have already been removed from the list. A gift can be booked online, the payment is done online or by bank transfer.
As a parent you can consult the birth list of your child at any time. Zohaast something from the list is chosen, you notice that. What's more, you can even see who bought the gift and whether you have to pick up the gift yourself. A very useful way to let family, friends or colleagues choose a gift, wherever they live.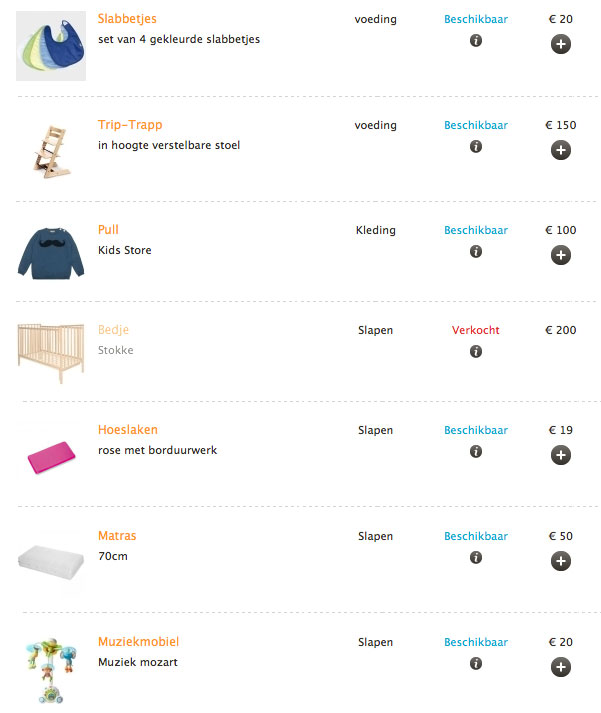 Virtual baby visit
Visitors also immediately find the personal site of your little one. Family and friends can browse online in the photo book to their heart's content. Or follow all the news that mom or dad post. Maybe they even leave a message in the guestbook ?
Your website is available in Dutch, French and English, from all over the world.
The photos and the guest book of the baby website can be digitally printed in a beautiful book . You determine the edition yourself.