To help you determine the correct child size, we have provided a standard size chart below. This table provides an overview of all children's sizes starting from a child with average weight and average height for the age category in question.
However, this age category is only an indication, not every child grows equally quickly or has the same physique at that particular age. That is why we advise to mainly look at the height of the child. This body height is, after all, normative. If the length of your child falls between two child sizes, we recommend taking the largest size. Also take a bigger size for children who grow faster or have built something more robust.
How to measure correctly?
Take off your child's shoes. Put the child with the back side against a straight surface (for example a wall) and let it take a straight posture. Now take the tape measure and measure the child from the bottom of the foot to the top of the head. Example: Your child measures 74 centimeters, then make your choice from articles of size 74.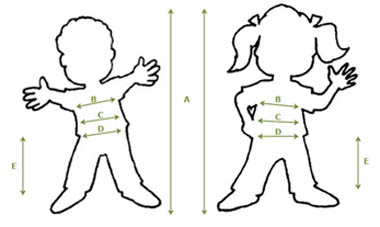 A. Body length: Measure vertically in a straight position from the bottom of the foot to the top of the head.
B. Breast size: Measure horizontally where the breast size of your child is greatest.
C. Waist: Measure horizontally the spot where the size of the waist is narrowest, area just above the navel height.
D. Hip size: Measure horizontally the place where the size of the hips is the widest.
E. Outer Leg Length: Measure the outside of a stretched leg vertically from the hip to the ankle.
Babies and Toddlers Size 50 to 86

Girls Size 92 to 128

Girls Size 134 to 176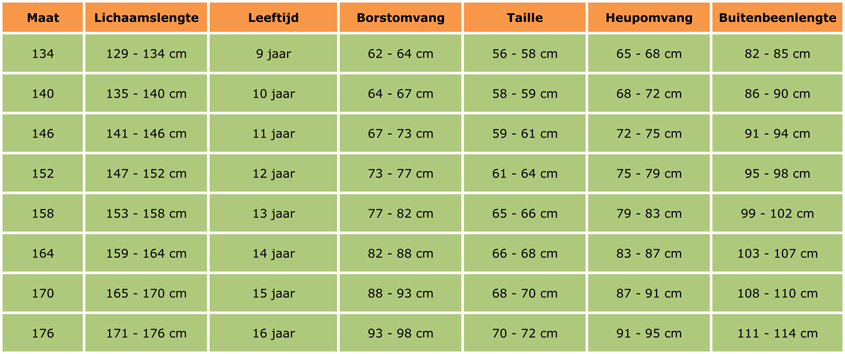 Boys Size 92 to 128

Boys Size 134 to 176